---

Special Column: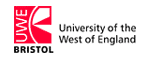 The Chancellor of the University is

The Rt Hon Lady Justice Butler-Sloss, DBE

. Dame Elizabeth first practised as barrister specialising in family law before becoming a Registrar and later a High Court Judge. Dame Elizabeth chaired the Cleveland Child Abuse Inquiry, the outcome of which has had a significant effect on social work practice. In 1988, Dame Elizabeth became Britain's first woman Lord Justice of Appeal and a Privy Councellor.

The University of the West of England is one of the Britain's largest university. More than 22,000 students follow some 300 degree programmes across a wide range of subjects and disciplines, and there are options for full and part time study. In such a large communicty of students, you will meet people from a wide variety of backgrounds. UWE is particularly proud of its record in equipping students to meet the challenges of today's job market. The University has an excellent reputation for both teaching and research. Many of the 1,000-strong academic staff have come to higher education after working in industry and commerce, and this invaluable 'real-life' experience enriches the tuition offered to students. The University has also forged strong links with industry, and this two-way collaboration ensures that courses are up to date and relevant to the working world.
---
Other Special Links:
Leeds University
Cardiff University
Coventry University
Hertfordshire University
Oxford University
Cambridge University
Leicester University
Birmingham University
Manchester University
Bath University
York University
UCAS
United Kingdom Education Council
Cambridge Dictionary Online

Kokoro - Online Taiwanise Animated Movie
Pricegrabber
Circuitcity
Bestbuy
Malaysia Airline (MAS)
AirAsia
Bar Council Malaysia
AAM
Martin & Co.
Ibanez Guitar
Taylor Guitar
BBC News
---
Downloads:
Guitar Tuner
All links above are subject to its own website's rules and regulations.