"I planted the seed, Apollos watered it, but God made it grow. So, neither he who plants nor he who waters is anything, but only God, who makes things grow." 1 Cor. 3:6-7
The vision statement in 1998 moves the Tawau Anglican Church towards fulfilling the Great Commission:
" To built a Cell Church strong in power, love and discipline, where every member is trained and mobilized to fulfill the Great Commission."

2 Tim 1:7 " For God did not give us a spirit of timidity, but a spirit of power, of love and of self-discipine."

To know the history, activities, news, sermon,etc regarding St.Patrick's Church, do visit the House of Prayer for All Natons' website.
---

For those of you who is in Kuala Lumpur, Subang Jaya, USJ, PJS, Bandar Sunway, Petaling Jaya, or other area, if you having hard time to find a church that really suitable for you, why not go to Faith Christian Centre in Bandar Sunway! If you visit the House of Prayer for All Nations web site, you probably found out that Faith Christian Centre is wholly supported by St. Patrick's Church, Sabah. Faith Christian Centre have services in English, Chinese and BM. Senior Pastor for this church is Archdeacon Albert Vun and the Pastor-in-charge is Rev. Lin Khee Vun.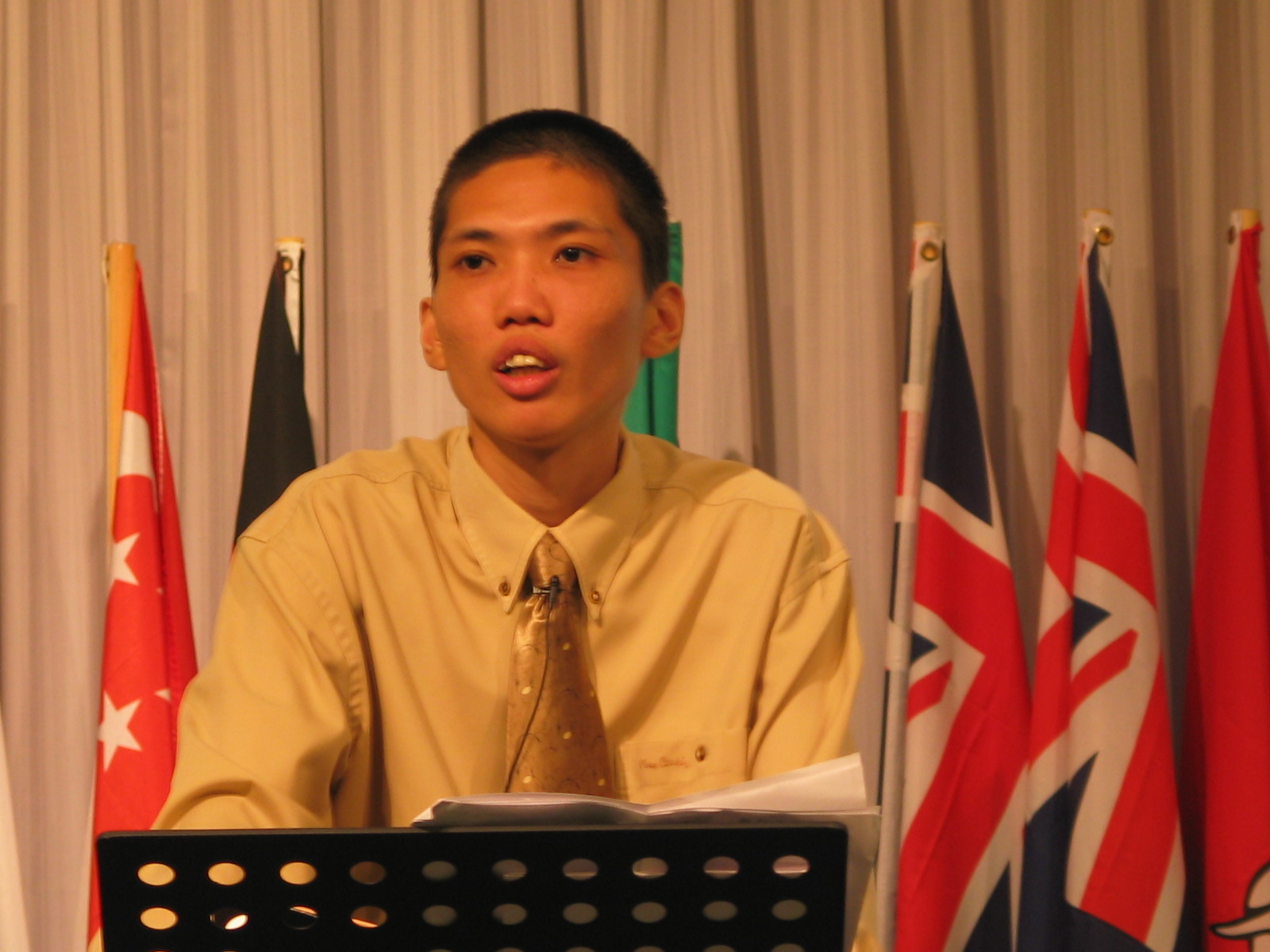 Faith Christian Centre Vision Statment:
"To build a Cell Church, strong in the power, love and discipline where every member is trained and mobilized to fulfill the Great Commission."
Faith Christian Centre is located at:
No.17-3, Jalan PJS8/5,
46150, Bandar Sunway,
Petaling Jaya,
Selangor Darul Ehsan,
Malaysia.
Tel: 03-5635 8590; 03-5635 8601
Fax: 03-5635 1377
Email: faithcc2@tm.net.my
---
OVERSEA CHRISTIAN FELLOWSHIP, UK.
If you are new in Bristol, London or Cardiff, you are invited to come to OCF ( Oversea Christian Fellowship) meeting. In Bristol, meeting held on every Friday everning at 8pm at Bristol University's Student Union, 4th Floor, Committee Room 4. OCF's aim and motto is "To reach out, build up and send back". If you are in UK and you wish to know more about us, do come along. You are very welcome to join us. If you have any quieries, do email us by <ocf_bristol@hotmail.com>
For the first time, OCF had its first Easter camp from 3-6 April 2000. The camp was fun and unforgettable. I believe, OCF is a place where most of the oversea Chrsitians will know God even more. So, don't hesitate to contact them and join them.
---
If you are in England and Wales and you are interested in knowing more about God, please don't hesitate to ask anyone in the church about Alpha Course.

Alpha Course is an opportunity to learn about Christian Faith over 4 evenings. A series of talks (mostly on video) which explain the basic beliefs of Christianity. If you need more information about Alpha Course, please have click here or email to them to <alpha.office.@htb.org.uk>.
The Alpha Office, Holy Trinity Brompton,
Brompton Road,
London
SW7 1JA,
England.
There is a Millennium Edition of booklets call 'Why Jesus', 'Why Christmas', 'Questions of Life','Searching Issues' and others which is available in every churches in the United Kingdom. If you would like to know more about Jesus and the meaning of life, do visit the web site or email them with any questions you have.
Besides, you can also visit some christian links below. If you have not heard about the Four Spritual laws, do visit the web site!

---
Testimonies and Sharings :
PRAYING HANDS

Want to understand love by action? Have a read on this....

The famous "Prayer Hands" picture was created by Albert Durer, who was born in Germany in 1471, the son of a Hungarian goldsmith. While Albert was studying art, he and a friend roomed together. The meager income that they earned on the side as they studied did not meet their living expenses. Albert suggested that he go to work to earn the necessary income for both of them while his friend pursued his studies. When finished, the friend would then go to work to provide support while Albert continued his studies. The friend liked the plan, but insisted that he be the first to work so Albert could continue his studies.
Albert became a skilled artist and engraver. After selling a wood engraving one day, Albert announced that he was ready to begin supporting his friend as he studied. But with all the hard menial labour, his friend's hands were so swollen that he was no longer able to hold a brush, yet alone use it with skill. His carrer as an artist was ended. Albert was deeply saddened by his friend's suffering. One day when he returned to their room, he heard his friend praying and saw his hands held in a reverent atttitude of prayer. At that moment, Albert was inspired to create the picture of those praying hards. His friend's lost skill could never be restored, but through this picture Albert Durer felt that he could express his love and appreciation for his friend's self-sacfifice.
Albert's friend did not talk about love, he demonstrated it, and that love changed Albert's life. Jesus also demonstrated to us what love looks like, as stated in 1 John 3:16-18.
[Taken from Jim Burns and Greg McKinnon, "The Praying Hands", Illustrations, Stories and Quotes You Can Hang Your Message On ( Ventura, CA: Gospel Light, 1997), p 163
---
John Wesley's Chapel (The New Room) Broadmead, Bristol, England
Last Easter (1999), I paid a visit to John Wesley's Chapel (The New Room) Broadmead, Bristol. Before I came to Bristol, a friend of mine told me about this Chapel. It is allocated in the City Centre. I passed by this Chapel at least 50 times now, but I never take any step to pay a visit of this Chapel until Friday the 14/5/1999. This Chapel is the first Methodist Chapel in the world. It was formed in the year 1739.
John Wesley was a priet in the Church of England. He came to Bristol in 1739 and started preaching to the poor in the open air ( You can still see people preaching in the open air now a day). Wesley gathered those who responded into religious societies which met in people's homes. Within weeks their numbers had increased so much that a new meeting place was needed. He bought a small patch of land and built what he call ' our new room in the Horsefair'. It was used as a dispensary and schoolroom for the poor as well as meetings and worship. It is still known today by Methodists as 'the New Room'.
John's brother, Chrles, was also a Church of England priest. Charles is considered by many to be the world's greatest ever hymnwriter. Their shared mission was to take their Christian faith to the unchurches and especially to the poor who were often neglected by the Established Church. - Pei San


---
Footprints

One night I dreamed a dream.
I was walking along the beach with my Lord.
Across the dark sky flashed scenes from my life.
For each scene, I noticed two sets of footprints in the sand,
one belonging to me and one to my Lord.
When the last scene of my life shot before me
I looked back at the footprints in the sand and to my surprise,
I noticed that many times along the path of my life,
there was only one set of footprints.
I realized that this was at the lowest and saddest times of my life.
This always bothered me and i questioned the Lord about my dilemma.
"Lord, you told me when I decided to follow You,
You would walk and talk with me all the way.
But I am aware that during the most troublesome time of my life there is only one set of footprints.
I just don't understand why, when I needed You most, You leave me."
He whispered, " My precious child, I love you and will never leave you, never, ever, during your trials and testing.
When you saw only one set of footprints, it was then that I carried you.".
May the blessing of God be with you always!!!
---
If you have any testimonies or sharings, please do not hesitate to contact the webmaster.
It is always good to share to others how God blessed you.
---
All links are subject to their own website's regulations and terms.


Webmaster: pslin@lycos.com